Most Wherewolf subscription tiers come with a limit to the amount of guest waiver records that you are allowed to store within one calendar month. You can view the applicable limits for each tier on our pricing page.
How do I keep track of how many waivers I've stored this month?
Your waiver usage is displayed on both the Account Overview and Subscription page in your Account Dashboard.
When you start nearing your limit we'll notify you via email. We will also display notifications within your operational and account dashboards.
Note: if you don't see your waiver usage displayed on any of the pages linked to above or you are unable to access those pages, it means you have no waiver limit or limits are not currently enforced on your plan.
At the end of each month, your available waivers will reset to the amount included in your subscription tier (your usage is reset to 0).
What happens when I exceed my waiver limit?
If you exceed your monthly limit your, guests will no longer be able to complete waivers online. Emails containing a link to the wavier web form will not be sent to guests when they make bookings and all existing links to the waiver web form will be temporarily disabled.
To avoid disruption to your operations, it is therefore important that you top up your waiver storage before you reach your limit, or talk to us about upgrading your account to a plan with increased storage capacity.
What to do when you've run out of waivers
Not to worry - when you've run out of storage or you're nearing your limit it's easy to top up your account with additional waiver storage capacity.
Wherewolf offers Add-Ons that provide increased storage for your account. Simply go to the Subscription page of your account dashboard and purchase a waiver limit top-up from the available add-ons listed on the page.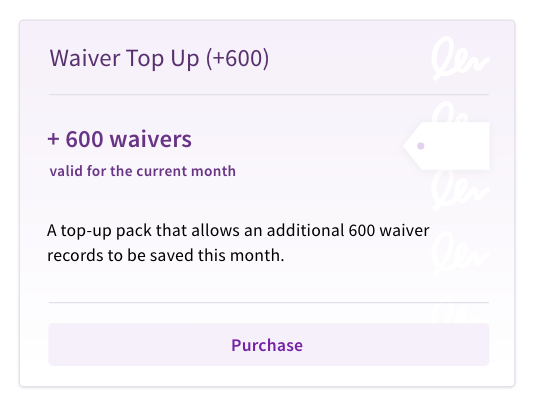 How does a waiver storage add-on work?
A waiver top-up will increase the amount of waivers available for storage by the amount defined on the applicable add-on. If you had 50 waivers available on your plan and you buy an add-on pack for 600 waivers, you will now have 650 waivers available this month.
Your waiver web form links will be reactivated, and emails with waiver links will once again be sent to new booking guests if you have a reservation system integration. Note that links will not be sent retroactively - bookings made during the period that your waivers were disabled will not receive emails.
Add-on waivers expire on the first of the following month, at which point waiver balances will be restored to the amount of free waivers included in your plan.
If you are going to see a high number of guests each month we recommend you contact one of our friendly team to discuss moving to an account with more storage and additional features.